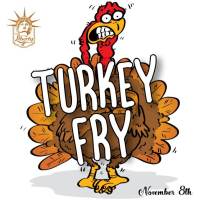 Turkey Fry
Join us for DEEP-FRIED turkey!
Time: 5:45pm Day: Wednesday Doors: 4:00pm Ages: 21+ Ages
Member, Kendall Joyce, is ready to share his Southern deep-fried turkey skills and secrets with us all! Join us for a fun night on the patio watching the deep frying proccess and a chance to enjoy the final product.
Not sure what deep frying a turkey really means? It is a process that involves lowering a turkey with a hanger-type apparatus into a giant vat of 400-degree oil heated with propane gas, and cooking it for a fraction of the time it takes to oven bake.

Full Menu and Pricing TBA
Please email reservations to .